Swipe to the left
HOW TO PROTECT YOUR HOT TUB COVER INVESTMENT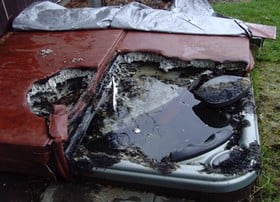 Your hot tub cover can look way past its best very quickly if it is not maintained and cleaned regularly!
Don't let this happen to your investment!
WHAT CAUSES A COVER TO DISINTEGRATE?
1. Too much chemical in the water
Chemical in the water vapour that comes into contact with the cover eventually causes the plastic wrapping around the inserts to become brittle and crack. Once that happens the foam inserts will quickly absorb moisture, become heavy and stop insulating properly. Poor water chemistry can also cause bleaching, puffiness within the vinyl and disintegration of the stitching.
If you use too much chemical this process can occur very quickly.

2. Incorrect, or non-existent, cleaning
The most common cause of the vinyl cover fading and cracking is the use of damaging products – abrasive products will strip the top, protective layer from the vinyl causing it to fade, crack and disintegrate. A proper vinyl cleaner will provide an extra layer of UV protection for your cover.

By caring for and regularly cleaning your hot tub cover and ensuring its environmental conditions are at optimum level you will prolong its life by many years – and get a return on your investment. If all else fails and your cover is beyond hope then you will need to replace it quickly. Check out our custom made range of hot tub covers here.

HOW TO USE LESS CHEMICAL?
1. Use enzymes
Enzymes are natural compounds that target grease and oil to break them down before they accumulate in your hot tub, the right enzymes can also kill many bacteria. Consequently enzymes act both as a natural sanitiser in your hot tub (just like chlorine or bromine) and as a water cleaner and clarifier.
So, enzymes reduce your need for chlorine or bromine down to a miminal level, they reduce your need to shock the water and, if used properly, they will virtually eliminate the need for a water clarifier or anti-foam.
2. Use Aquagarde
AquaGarde is a pleasant smelling and chemical-free single step spa treatment that relies on the natural disinfecting qualities of silver to keep your hot tub water sparkling clean.
Simply apply a measured dose, dependent on your hot tub water volume, once a week.