Swipe to the left
Our Hot Tubs Blog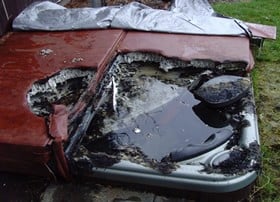 Your hot tub cover can look way past its best very quickly if it is not maintained and cleaned regularly!
Don't let this happen to your investment!
WHAT CAUSES A COVER TO DISINTEGRATE?
1. Too much chemical in the water
Chemical in the water vapour that comes into contact with the cover eventually causes the plastic wrapping around the inserts to become brittle and crack. Once that happens the foam inserts will quickly absorb moisture, become heavy and stop insulating properly. Poor water chemistry can also cause bleaching, puffiness within the vinyl and disintegration of the stitching.
If you use too much chemical this process can occur very quickly.